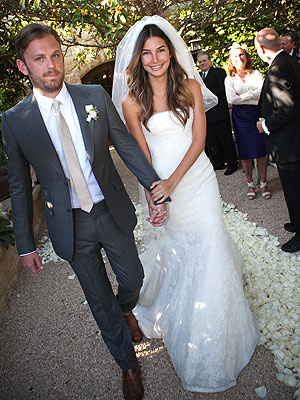 Photo Credit: Joe Buissink / People Magazine Victoria's Secret model Lily Aldridge wore a couture Vera Wang gown at her wedding with Kings of Leon singer Caleb Followill on May 12, according to People Magazine.
What we're wondering is, did she get any take-home perks from her gig on the recent Victoria's Secret campaign that she was featured in? The lingerie giant launched their new Sexy Little Bride Collection in April, with Aldridge modeling the new line.
There is a slideshow on Victoria's Secret website showcasing their new bridal collection, which is designed like a very cute bridal boudoir portrait session album. By the way, if you would like to do something like this as a gift for your sweetheart, we can help you with that!
Here are a few of our bridal boudoir album designs:
© Wedding Creativo Photography
If you're looking to incorporate a "sexy bride" ensemble for your wedding night, here are more bridal lingerie fashions we spotted: